3 Breath Relaxation Meditation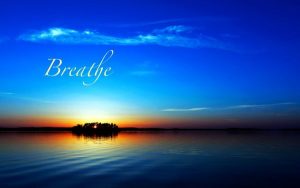 The Three Breath Meditation Technique is amazingly simple and effective. This can help you cope with stressful situations if practiced regularly*. To correctly practice, take a moment several times a day (whenever you can safely stop what you are doing for about 1 minute).
---
(Note – practice slowly )
Breath 1. Take a breath in and inflate your belly as if it is filling with air. This brings your attention to the breath and away from the issue at hand. Breath out naturally.
Breath 2. On the second breath, again watch it inflate the belly. On the out-breath feel your entire body relax as if it is settling into the place where you are sitting (standing or lying down)
Breath 3. Breath into the belly again, this time taking in as much air as possible without straining. Hold for a count of 3 seconds and release. Again, let go of the body as much as possible so you feel the relaxation wash over it.
Try this meditation several times a day. At first, it will seem difficult to stay focused, but you will get a feeling for it quickly. With practice, you will be able to settle into this relaxed state even in highly stressful situations.
With practice, you'll be able to create a relaxed feeling in as little as 1 minute.
Enjoy 🙂
* it's the regularity of practice that makes this so effective. It's best to do it when one is not stressed until it becomes so engrained that it can be used when stress starts to increase.