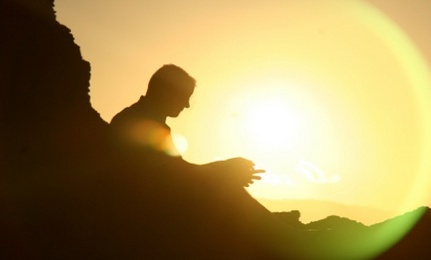 "We carry about us the burden of what thousands of people have said and the memories of all our misfortunes. To abandon all that is to be alone, and the mind that is alone is not only innocent but young – not in time or age, but young, innocent, alive at whatever age – and only such a mind can see that which is truth and that which is not measurable by words." ―Jiddu Krishnamurti
I have found that quote worth reading many times. One can take each sentence and find personal meaning in it. I am a huge fan of Krishnamurti, mainly due to statements like that. Taking the experience of feeling alone and turning it into something that can "see that which is truth and that which is not measurable by words." is a profound gift to anyone experiencing their "aloneness".
I encountered K (yes, that is how he is often referred to in the transcriptions of his talks) around 1983 with a book called "The Awakening of Intelligence". His analysis of the human condition is second to none and his voice still echos in my psyche.
The theme of standing alone is one of many he espoused. But rarely had I found it expressed quite the same way. Specifically, he referred to it as, not only a positive state of being, but as a starting point for improving one's outlook, attitude, and ultimately, the overall experience of life.
Re-read the quote again. The opening sentence states that our situation is one of being the receptacles of everything we have heard, seen, read, discussed, and thought about, with the effect being the accumulation of all that in our memories. To drop all that and return to a mental state of not being influenced by all that accumulation is to be innocent.
Innocence is a state of being unformed and therefore able to see things with a fresh perspective. This freshness, in order to function, requires the ability to assess information and determine its value. In a word, intelligence. Yet, an intelligence that is not trying to prove a point or score a victory and "be right". Rather, an intelligence that is nimble, keen, and clear. That is what K means by his use of the words "young, innocent, alive at whatever age".
I have momentarily experienced this state of mind, but can tell you that it tends to be fleeting. The weight of one's mental accumulations is deep and strong. However, it is something that can be momentarily seen within and it can clear away a lot of the noise that we all experience. Interactions with friends, family, colleagues, the news, etc. all vie for dominance in one's mind, obscuring that clarity.
While "To abandon all that is to be alone", it is not to be lonely. It is to realize that one was already alone while being bombarded with the "memories of all our misfortunes". Dropping all that, even momentarily, is to experience the benefit of being a mind alone.