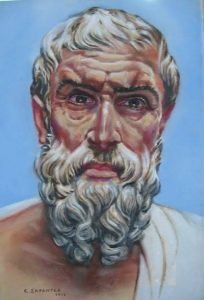 Possibly the most misunderstood philosopher of ancient Greece is Epicurus. He has been tagged as the hedonist by his detractors due to his idea that pleasure was the highest ideal of life. This raises the obvious image of someone living for one momentary pleasure after another. Surely, this must be some form of debauchery, greed, lust etc.
However, as I started looking further into Epicurus' ideas I was surprised to discover a set of ideas that were in fact not aimed at sensual hedonistic enjoyments at all. Rather, he was looking for the keys to lasting human happiness as having a pleasant (good) life was the actual goal. To that end, he counseled a way of living that was most conducive to real happiness. Here some of Epicurus' teaching:
"Live simply and prudently, with self-control; and moderation.  Seek simple pleasures, those that satisfy natural and necessary desires, chief of which are food, drink, clothing, a roof over your head, friendship and love".
Sounds a bit like Buddhism actually. The Buddha also taught moderate living, self-control, and the reduction of desires.
Of particular interest to me is Epicurus' notion of "natural and necessary desires". He classified desires as:
1. Natural and necessary
2. Natural and unnecessary
3. Unnatural and unnecessary
That classification is worth reading a few times and get it rolling around in your mind. There is much more to Epicurus. In fact, his philosophy was prominent for over 700 years in Greece and Rome. He was known as the "master builder of human happiness". Now that's something worth knowing more about.