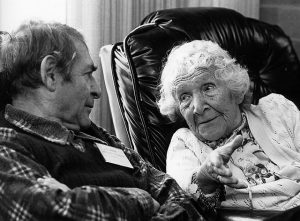 Coined by gerontologist and author Robert Neil Butler in the 1960s, "ageism" is widespread and growing. Despite all the various "isms" and "phobias" that are the daily fodder for media, the one that is virtually never mentioned is ageism. This is particularly ironic since getting older and reaching so-called old age is the inevitable fate of everyone who lives long enough.
I recall experiencing ageism when I was in my 40s. Yes, 40s! In the late 1990s, the company I was working for at the time was downsizing. As I had been there for over 20 years and had ascended the pay scale each year, I was an expensive employee. Also, I was middle management at a time when the company was getting top-heavy with managers. So this added up to my being shown the door and offered a severance package. I took it.
Among several ideas about what I would do was the obvious one, apply for another job. So I assembled my resume and started searching. The responses were the standard "thanks for your application, we are reviewing…" you can fill in the rest. It was mysterious to me that, with all the experience I had, I was not even getting an interview.
In one of my many followup calls, I was finally given a clue as to what was happening. A woman in human resources took pity on my situation and explained their reasoning for not considering me. She said, "because of your age and experience, we believe you would leave our firm the moment a better opportunity came along. We would waste training and investment on you."
Interestingly, this made sense to me. And it gave me a clue about what might be happening with the many applications and inquiries I had made. In a way, it was a good thing as it launched me on more entrepreneurial path which was more satisfying. But I never forgot the "age and experience" remark and knew that I had experience a form of ageism, albeit a mild one.
Fast forward to now. I am in my mid-60s and the color gray is becoming my friend. I've had some health scares which thankfully have not turned out to be serious. Further, I'm fortunate enough to have the energy and motivation for physical and mental exercise, along with a solid marriage and avocations that give me purpose.
But the sense of being seen as less valuable is starting to become apparent to me. To put it in current terms, especially in light of the long-term care travesties that have been revealed in the pandemic, it seems that old lives don't matter!
While the long-term care scandal is an extreme example, here's a milder one that I think is more insidious. It's from a review of a book called Elderhood by Louise Aronson. (reviewed on a book summary site called Blinkist)
More than two million people watched The Daily Show's Trevor Noah analyze the July Democratic debates – and they all say Noah makes fun of Bernie Sanders.

In the debate, Sanders gave a quick explanation of his Medicare-for-all bill, drawing attention to the fact that it would cover "hearing aids and eyeglasses" for senior citizens.

"OK, why does Bernie sound like he's only pitching health care for himself?" Noah quipped.

Help your future self by helping the elderly

It's odd that in a society in which we debate -isms of every kind – from sexism to racism to heterosexism – ageism is still largely overlooked. Noah's blithe dismissal of the needs of the elderly is a case in point.

Because here's the thing: we're all headed toward old age and, hopefully, we'll all get there. If you care about your future as an old person, then you should care about the well-being of older people.

Unfortunately, in the United States today, being old isn't so easy. The vast majority of older people have to pay out of pocket for things like walkers, hearing aids and glasses – because these assistive devices are currently classified as "nonmedical." And that's just the tip of an iceberg of injustices.

To get a more comprehensive report on "elderhood" in America – and to learn why that's a better term than "old age" – check out our blinks to Elderhood, by Louise Aronson.