Basic Teachings of the Great Philosophers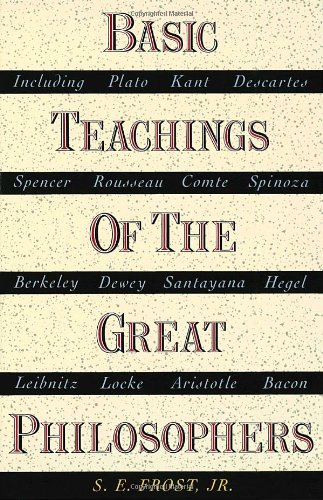 A complete summary of the views of the most important philosophers in Western civilization. Each major field of philosophic inquiry comprises a separate chapter for greater accessibility. Includes Plato, Descartes, Spinoza, Kant, Hegel, Dewey, Sartre, and many others.
This was the first book of western philosophy I read, right after Zen and the Art of Motorcycle Maintenance. The latter had introduced me to both ancient Greek philosophy and the Chinese concept of "Tao". As a result, I wanted an overview of "the" great philosophers and Basic Teachings was exactly what I needed.
It is a whirlwind of ideas, personalities, methods, viewpoints, disagreements, conjecture, and history. It is divided into themes such as "the nature of God", "free will", "origins of life", etc. and then presents the various philosopher's ideas on these topics. the effect is that of placing personalities historically separated by vast amounts of time and geography side by side so one can get a broader overview of the various topics.
The book is a great introduction to the thinkers of the past and their ideas, even though it cannot delve deeply into each one. But to get you started, I cannot recommend this book more strongly.