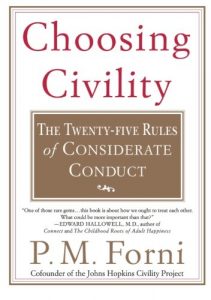 If ever there was a time when a book like this was needed, it is now. These days of identity politics, race hatreds, religious violence, and simple intolerance for ideas with which we disagree are becoming less savory by the day.
Choosing Civility was published in 2003, long before the current nastiness got underway. But sadly, the fact that the book can be considered timely virtually anytime is not a compliment on our humanity. I read the book with great interest and can tell you that the Amazon description here lays out the content very well:
Most people would agree that thoughtful behavior and common decency are in short supply, or simply forgotten in hurried lives of emails, cellphones, and multi-tasking. In Choosing Civility
, P. M. Forni identifies the twenty-five rules that are most essential in connecting effectively and happily with others.
In clear, witty, and, well…civilized language, Forni covers topics that include:
* Think Twice Before Asking Favors
* Give Constructive Criticism
* Refrain from Idle Complaints
* Respect Others' Opinions
* Don't Shift Responsibility and Blame
* Care for Your Guests
* Accept and Give Praise
Finally, Forni provides examples of how to put each rule into practice and so make life-and the lives of others-more enjoyable, companionable, and rewarding.
I can only add that when one imagines human relationships being conducted with these principles in mind, the resulting picture is quite pleasing. It puts the "civil" back into civilization.