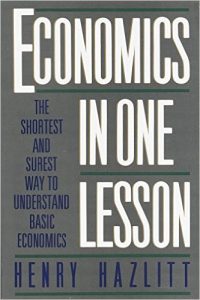 Over the years, I slowly realized that a main study for understanding events is economics. As I watched news events combined with everyday activities of the people I encountered, I could see that many choices were being made based on the economic risks and rewards. Further, the larger political and cultural picture seemed to come down to the same concerns albeit writ large. Trade, interest rates, taxes, monetary policies, business successes and failure, employment…the list goes on. All these topics are constantly in the news, and I reasoned that to understand them, some knowledge of economics itself would be helpful.
So I embarked on a study of it via audio lectures and library books. I don't recommend this unless you really want to dive into the minutiae of economic theory. At the end of it, I still wanted a concise explanation of the basics. Enter Henry Hazlitt's outstanding book!
It's a classic primer and an essential guide to the basics of economic theory. In Hazlitt's own words from the preface:
This book is an analysis of economic fallacies that are at last they are so prevalent that they have almost become a new orthodoxy.
He goes on to outline what he intends to impart and then dives into "The Lesson". In that opening chapter, he explains in detail what the lesson is and then states that "the whole of economics can be reduced to a single sentence." What is that sentence and lesson?
The Lesson: The art of economics consists in looking not merely at the immediate but longer term effects of any act or policy; it consists in tracing the consequences of that policy not merely for one group but for all groups.
Sounds pretty straightforward right? And it is. But tracing the effects of economic activity and especially government policies can be complex. Hazlitt writes in a clear accessible style that does the tracing with the end result being a much better understanding of the ramifications, short and long-term, of policy choices.
The best example I can offer of the kind of understanding he imparts is a concept introduced early in the book and follows through in many subsequent chapters. It is "what is seen and what is not seen". An example: when a government decides to pay for a new bridge, that same money is not available for something else such as a new school. As a result, the school doesn't come into existence and none of the education it would've imparted happens. Whatever potential the students may have realized never happens. But we cannot see any of this, only the bridge and there is a tendency to think taxes were well spent because we have a nice new bridge. But is this correct? Maybe, but the lesson is to also consider those students who have to go elsewhere because that school was not built. The bridge is seen, the school and everything it represents is not.
Much more can be said of course, but I leave it to you to get the book. It is only around 200 pages and the writing is clear and without jargon. If you want to gain an understanding of how to interpret current events in light of their economic implications, Economics in One Lesson is all you'll need.
He is one the few economists in human history who could really write – H.L. Meneken