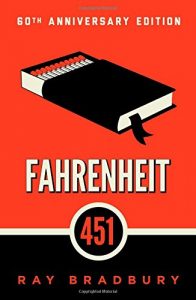 I am not a particularly avid reader of fiction. But there are several novels in my reading history that have left lingering effects because of the ideas they presented. Ray Bradbury's dystopian classic is one of them.
I first encountered the story in the 1966 movie version which I saw for the first time when I was 12. I did not really understand the full value of the movie's message since I viewed it as no more than a futuristic thriller. But the idea that books could be thought so dangerous that they had to be burned was intriguing to my budding brain. I was also captivated by the idea that a word, in this case 'fireman' could be completely turned on its head and make sense in this possible future.
There were two scenes in the movie that stood out for me. The first was what I found to be a very disturbing suicide sequence in which a woman chooses to be burned alive rather than give up her books. The second was the ending in which people…..well, I don't want to give it away to those who haven't seen it. Suffice it to say that it revels in the individual human spirit.
I read the novel a few years later when I was better able to absorb its ideas. The themes of totalitarianism, rebellion, and the dignity of each human being were presented in such a unique way that I've never forgotten it. If you've never seen the movie or read the book, I urge you to. There are not many stories that can truly be called original. Further, there aren't many that can teach such important lessons about societies and what can go wrong with them. Fahrenheit 451 is both.
Here's a scene from the movie: