Great quotes from Henrik Ibsen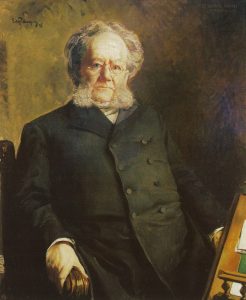 I couldn't resist these great quotes from Norwegian playwright Henrik Ibsen. The third one is especially timely. I bet most of you will feel an involuntary nod of agreement with it. If so, it says something.
Ibsen was born in 1828 and acclaimed by some as the most frequently performed dramatist in the world after Shakespeare.
---
"The spirit of truth and the spirit of freedom — these are the pillars of society."
"You should never wear your best trousers when you go out to fight for freedom and truth."
"It is inexcusable for scientists to torture animals; let them make their experiments on journalists and politicians."
"One of the qualities of liberty is that, as long as it is being striven after, it goes on expanding. Therefore, the man who stands still in the midst of the struggle and says, 'I have it,' merely shows by so doing that he has just lost it."