How the Catholic Church Built Western Civilization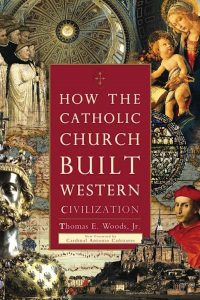 I did a double take when I read that headline!
Like many, I've been under the impression that the Roman Catholic Church was (and is) nothing more than an institution of ignorance, superstition, repression, and hostility towards the development of modernity.
I have consumed the standard narrative about the Church being filled with systemic corruption and backward looking power mongers.
Enter Tom Woods Jr. and his enlightening book. While the charges levied against the church historically are certainly valid, that is not the whole story.
Not only have we been told an incomplete story about the Church being the house of corrupt clergy, in fact it has been at the forefront of most significant building blocks of our civilization.
Here are some of the areas at which my eyebrows rose and my assumptions needed some revision:
science
legal questions
economics
education
fine arts
scholarship
If you enjoy history, learning, discovery and the experience of rethinking your knowledge about these topics, you will enjoy this book immensely.