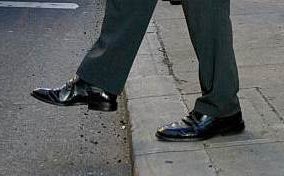 Inner peace is a serious pursuit and as I'm sure many readers have found, it is not easy to obtain. In fact, the desire for serenity can actually become a barrier to its attainment because of the inner tension that can sometimes be created. "Am I serene now…..not yet?…how about now?"
Once in a while, I am reminded of the folly of taking myself too seriously. While cultivating a peaceful mind is serious, the actual on-going experience of it is one of deep, calm joy. One of the ways this deep joy manifests itself is in moments of laughter at one's own excesses.
Several years ago, while I was relatively new at meditation practice, I was very serious about my practice and "being a practitioner". This was long before I identified simple inner peace as my goal of practice and so was somewhat caught up in my own sense of the importance of what I was doing. One of the aspects of the way I practice is to find ways of integrating the meditative mind into daily life.
One day I was standing on the sidewalk at a busy intersection, waiting for the green light. I decided to expand my hearing and vision to see how much I could take in. This involves allowing as many sounds as possible to enter and to expand the peripheral vision. I stood there feeling very "aware" as the mind became very quiet by allowing the senses to expand. The light turned green and I stepped forward, still reveling in my widened senses and quiet mind. I completely forgot I had been standing on a curb so I stepped into empty space. As I got back up from having fallen in a heap in the street, I thought "Nothing like reality to wake Mr. Awareness up!"
I cannot emphasize enough how helpful it is to laugh at ourselves and our moments of foolishness. In fact, this ability to see the silly side of our actions is valuable for relieving inner tensions that can creep in over time.
What is left when an inner tension vanishes? For a moment, however brief, one smiles, let's go and experiences a perfect peace.