Racists, Bigots, and Peace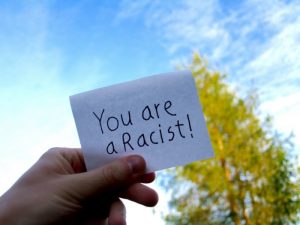 I don't normally comment on politics. But the toxicity of discourse these days is a concern for anyone who wants to live in a peaceful, prosperous world.
One of my big concerns is the use of the words "racist, bigot, etc." They seem to be tossed around frequently and quickly whenever there is a disagreement between someone on the "left" and "right". Those words are also a problem since they are also used as pejoratives when convenient.
If you are someone who used this word as an accusation, be careful with calling anyone who disagrees with you a racist. I know I'm not a racist. So I have no personal need to prove anything.
But if everything I say is called racist; all my beliefs are called racist; all my comments are called racist, then maybe I should give in and become a full out racist. This is not a good feeling. Furthermore, there are more and more reasonable people who are starting to feel this way. After all, what is the point in asking questions about say, immigration, if one is confronted with the accusation of racist for asking the question?
Let's tone it down, folks. Life is short and difficult. So let's make it good.