Removed from Apple Podcasts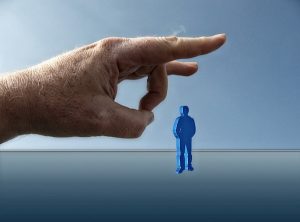 Last year I started a podcast as an experiment. I wanted to see how the process worked and try my hand at doing a regular podcast. I put out several short episodes but found my interest split between this site and another one. The latter was a political commentary podcast which I decided not to pursue for the time being.
This "Mindmuser" podcast has been quiet as I have been thinking about what direction to take it. It's important to be clear on the purpose of a podcast so as to remain consistent. In the meantime, I've been focusing on writing this blog.
Three days ago (July 12, 2019) I wrote a short piece called Racists, Bigots, and Peace. It was an appeal to those who accuse others of racism whenever they disagree. The accusations virtually always come from those on the left, aimed at those on the right. My post was a warning that this strategy can backfire.
This morning I received this email from Apple: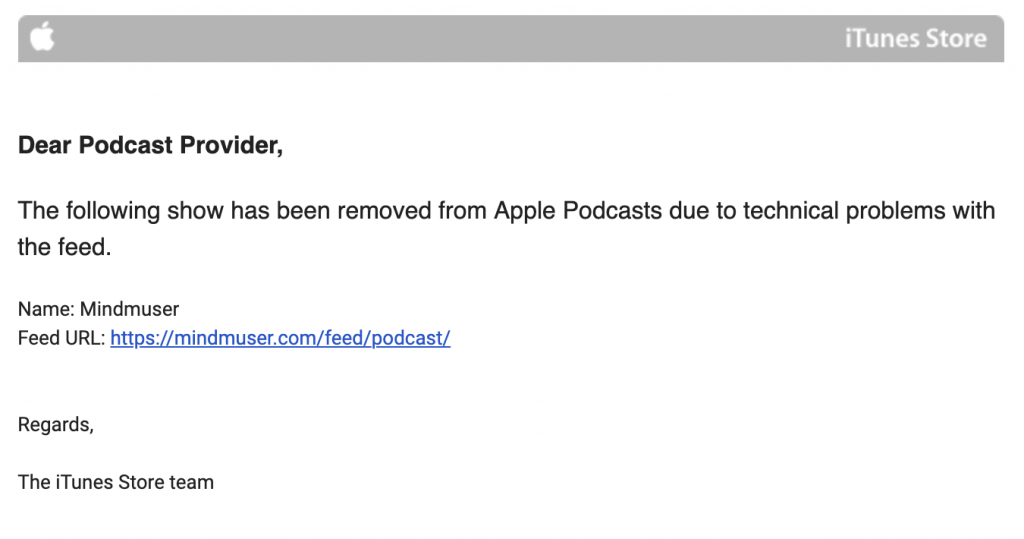 As you see, there is no explanation of the "technical problems". Is it just me, or is the timing of this suspicious? 2 days after I write about racism and Apple, who are on the list of companies that censor free speech, remove my podcast?
(Note – I've removed the middle paragraphs from their email as it was instructions and links to their podcast connection information. I have no wish to promote iTunes!!)
At this point and given the creeping censorious environment we are in, I suspect my mention of racism has prompted Apple to remove my podcast. I don't think a person did this, but rather I've likely been caught up in an algorithm. But the result is the same.
At this point, I have no plans to resume the podcast. Should this change, I will let everyone know.
Here's a list of platforms regarding free speech. (disclaimer – I have not tested every one of these so best to research them for yourself. While I think the list is accurate, I will update it if I find there are errors)
   Platforms that censor free speech
* Facebook
* Twitter
* Google & Youtube
* TUMBLR & Instagram
* Patreon
* Stripe
* Paypal
* Twitch
* Spotify
* Apple
* Sony
* Pinterest
* LinkedIn
* Mailchimp
* WordPress
* Mastodon
* Azure
* Mastercard
* Godaddy
* MEDIUM
* Shopify
* Cloudflare
* pusher
* WIKI
* Reddit
* Teespring
* Slack
* Coinbase
* GOFUNDME
* VISA
* Square
* Bitpay
* ROKU
* Netflix
* Indiegogo
* Disqus
* Diaspora
* VIMEO
* Ravelry
* Github
   Platforms that don't censor speech
* Minds+mewe+pocketnet (FB alt)
* Gabai + Parler (Twitter alt)
* Bitchute + brighteon (Youtube alt)
* Tutanota + Protonmail (email alt)
* Wire + GNU Ring (skype alt)
* subscribestar (Donation alt)
* Startengine (Kickstarter alt)
* peertube (DIY self host youtube stream style server)
* poal.co/Voat (Reddit alt)
* Movim (Tumblr alt)
* Pixelfed (Instagram alt)(one admin is an leftist)
* @GetTogether (meetup.com alt)
* searX.me/startpage/Duckduckgo/ (search alt)
* OpenStreetmap – instead of Google maps
* Linux – Win/MacOSX replacement
* f-droid.org – Google Play Store ALT
* Mumble – Discord ALT
* Gitlab (Github alt)
* spreadshirt – shirt merch alt
* imgtc or tineye – free image upload site
* Commento/Dissenter – Disqus Alternative
* Framadate – alt to Doodle