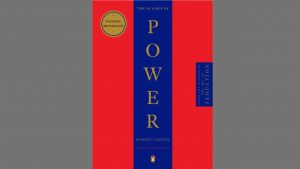 "We live in tumultuous times." Indeed, this statement has been uttered repeatedly down the centuries. Of course, the time in which one is living is thought to be more tumultuous than previous ones. I can almost hear the refrain, "oh yes, those times were chaotic, frightening, filled with anxiety, etc., but this time it's different because….."
The common thread of all the upheavals in history has been the balance or imbalance of power. Those who wield it generally want to keep it and expand it, those who are on the receiving end generally resent it when it works against their desires, and rationalize it when it meets them. What seems to be missing is a better understanding of how it's used and what to watch for when one's desires appear threatened. Enter "The 48 Laws of Power".
This is a well thought out book that offers the "laws" and gives historical examples of when a law has been used well, and when it has not. The consequences of each example are discussed in detail and I came away with a better set of tools with which to assess the maneuverings of politicians, business executives, religious leaders, etc.
It's a book that bears reading more than once since it can be used as a textbook on power and a reference to refresh the memory.
The one negative I experienced when reading it was the creepy feeling that I was learning how to get better at being able to manipulate and deceive. I did not enjoy that and felt like I needed a shower after each chapter. I guess that's the value of thinking clearly and listening to your conscience.