The Awakening of Intelligence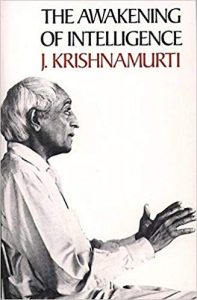 Where do I start with Krishnamurti? To say he was an influence on my early development would be an understatement as I can definitely say I had a "K phase" which lasted for several years. I consumed as many books as I could and even attended a series of video lectures (this was pre-internet) that ran for 2 hours every night for a week. It was a feast for the mind.
The Awakening of Intelligence was the first book I read. I had no idea who this man was but was captivated at the beginning of the book. He was asked about the youth culture of the day (this was in the late 60s) and his response was simply "I don't see the need to focus so much on youth. They will be old people in their turn." Wow, talk about dismissive of the social upheaval of the time.
The book is a series of dialogues between K and a variety of people. Here is the Amazon description:
This comprehensive record of Krishnamurti's teachings is an excellent, wide-ranging introduction to the great philosopher's thought. With among others, Jacob Needleman, Alain Naude, and Swami Venkatasananda, Krishnamurti examines such issues as the role of the teacher and tradition; the need for awareness of 'cosmic consciousness; the problem of good and evil; and traditional Vedanta methods of help for different levels of seekers.
The main thrust of his teaching that held my attention so long is the idea of rejecting all authority in order to find one's own way.
In his youth, in the 1920s he was being groomed as the "world teacher" by what probably amounted to a cult – the Theosophical Society. They created "The Order of the Star" which was the vehicle through which K was to spread his teaching. But in 1928 when he was introduced to the world, K publicly rejected his role and dissolved the Order. He did this with the message "Truth is a pathless land…"
This idea of finding one's own way, learning to trust your own mind, and using these as tools to discover truth has been a touchstone for me ever since.