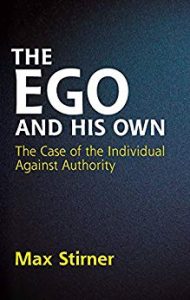 Individualism has a relatively short history. In the ancient world, the concept was not discussed as it is now, although much of ancient philosophy was all about the well-being of human beings.
But in 1844, Max Stirner appeared on the scene with this book and presented what is still the most thorough assault on authoritarianism ever written and is one amazing read!
Credited with influencing the philosophies of Nietzsche and Ayn Rand and the development of libertarianism and existentialism, this prophetic 1844 work challenges the very notion of a common good as the driving force of civilization. Stirner chronicles the battle of the individual against the collective to show how the latter invariably leads to oppression.
He begins with a study of the individual ego and traces its subjugation throughout history. Nothing is off the table and his assault includes ancient philosophy, Christianity, monarchism, the bourgeois state, revolutions, etc. He also predicts with uncanny accuracy (years before Marx's manifesto) that socialism would result in the ultimate totalitarian state.
This book, while a bit awkward in its language being a translation from the German and having some of the ornate phrasing of the mid-19th century , is worth reading cover to cover. If you ever had doubts about the philosophical basis for individualism, this book will dispel them with the power of Stirner's conviction.