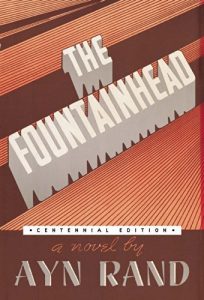 What can I say about Ayn Rand that won't start an avalanche of hair-pulling on either side of the on-going debates about her? This post is not so much about her as it is about the effect of her 1943 novel on a young man coming into his own.
I read The Fountainhead when I was 19, and it was one of the three books that moved my spirit like no others. The other 2 being Colin Wilson's The Outsider, and Robert Pirsig's Zen and the Art of Motorcycle Maintenance. Together these books and writers had huge impact on my young and hungry mind.
The Fountainhead was the second of the three. I had already read The Outsider, a book that seemed to speak directly to me and launched my fascination with ideas. But then came Ayn Rand's ode to artistic integrity. The character of Howard Roark, a struggling architect with ideas of his own and will of iron was one of the most uplifting literary heroes I'd ever encountered. He was confident beyond all imagining in the face of a variety of power-hungry characters around him. After reading The Outsider with its notion of the man who feels an inward drive yet without a sense of belonging (and what 19yr old doesn't know that feeling?), encountering Howard Roark as someone who did not care for anyone's opinion or affiliation and only wanted to live his own way was an emotional explosion!
Probably the best moment in the book for me was when Roark is asked by one of his antagonists:
"Mr. Roark, we're alone here. Why don't you tell me what you think of me? In any words you wish. No one will hear us." Roark: "But I don't think of you."
That line combined with the overall thrust of the story about personal integrity has stayed with me ever since. I am fully aware of the controversies surrounding Rand and her Objectivist philosophy. I went on to read her non-fiction as well as her magnum opus, Atlas Shrugged, and have mixed feelings about her ideas. But that initial contact with The Fountainhead was electrifying and it set a foundation of valuing personal integrity for me that has never waned.
Here is the famous courtroom speech from the 1949 movie:
If you ever encounter someone struggling with their sense of self-worth, this is the book to recommend. It is not particularly political as its focus is on the personal struggle to remain who one is despite the pressures of the outside world. Yes, it's a long read. Yes, Rand can sometimes take 100 words to say what a better writer can say in 20. But the message of "stand up for yourself no matter what others say" is an inspiring experience for any young mind.