I came across this in a Facebook group called Libertarian Buddhists. While I am not a Buddhist per se (meaning I have not taken refuge), I came to freedom philosophy through meditation practice.
While I consider myself a classical liberal and see some of the practical issues around Libertarian ideas, they certainly warrant serious consideration rather than stereotyped ridicule.
This post was in response to the cartoon called the 24 Types of Libertarians. It was based only on the idea of "selfish, stupid and mean Libertarians". It's a series of stereotypes and, to say then least,  they are unhelpful in promoting discussion.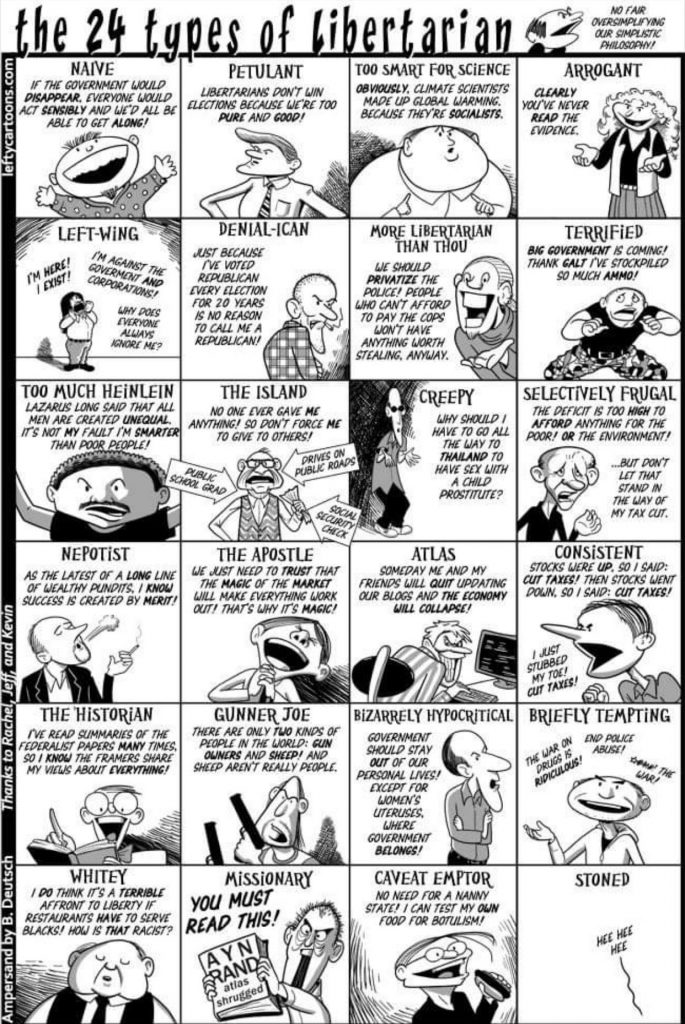 The larger culture is embedded in the idea that "someone needs to be in charge" and that our ability to select that "someone" by voting is morally good. It is so deeply ingrained that the very idea that leaving people to manage their own lives is terrifying. It is this fear that we are up against, along with the sense that aggression is ok if it's for the "correct reasons".
I practice inner peace through meditation every day. From it, I learned the immorality of aggression (and how I came to Libertarianism) To impose my view of how one should live on anyone is my very definition of aggression.
Yet even most Buddhists I've met are fine with welfare programs as they see them as compassion for the poor. That this is aggression towards those whose money is taken for the programs is not taken into account. That's how deep this programming goes.
Responses:
Commenter:  Unfortunately most people think that THEIR aggression if for the common good…and YOUR aggression is bad……
Reply: Yes. And that is the lure of aggression combined with morality. Once aggression is accepted as "good" for whatever reason (and it IS) the result is what we see. Competing cultural visions all backed by aggression.
Want to upset people of every political view? Simply point out that aggression itself is immoral. If they still think it's the correct tactic to use, they are immoral. A great way to lose friends!