Vedanta – Voice of Freedom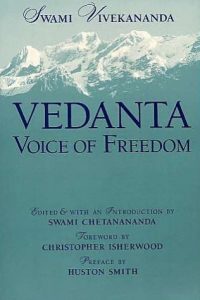 Of the many spiritual philosophy books I've read, this one still remains one the most influential for me. I encountered it in the 90s and have returned to it time and again for a refresher.
Once in a while one comes across a mind that seems to soar above the fray. That would be Swami Vivekananda's. His passion for elevating humanity to the highest ideal is expressed in almost every sentence and his phrases have been compared to the style of Beethoven! His influence on my thinking can be seen in my post Your Highest Ideal.
His words are great music, phrases in the style of Beethoven, stirring rhythms like the march of Handel choruses. I cannot touch these sayings of his, scattered as they are through the pages of books at thirty years' distance, without receiving a thrill through my body like an electric shock.- Romain Rolland
For me the most significant thing about Vedanta in general and Vivekananda in particular was that it  offered a broader view of the word "God" in my thinking. The notion of God in Vedanta is that of the Absolute "One Without a Second", or simply "The One". The idea of God as all-in-all and Being itself was intoxicating and my thinking about it has never been quite the same since.
Vivekananda once said, "I have a message to the West, as Buddha had a message to the East." And the message was Vedanta. Vedanta: Voice of Freedom is culled from Vivekananda's collected works. This book presents in a clear and concise form the spiritual wisdom of India as it has evolved over five thousand years. Thus it evokes the living Vedanta put forth by an extraordinary mind.