Watch out for the Weasels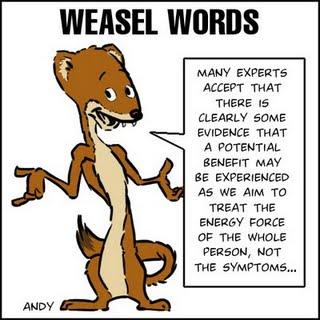 There are many reasons to be concerned about the media these days. Blatant biases and dishonesty are the obvious ones, but often it is a more subtle manipulation of words that a critical eye will occasionally notice.
When we read vague descriptions, obscure references, unnecessary qualifiers, etc., we are reading words that subtly alter the meaning of the message. These words are being used in a way that minimizes the potential negative impact of the message. They are being used by someone trying to "weasel out" of a bad situation or set of questions.
One of the early lessons I learned when I was reading philosophy was valuing how words are used. The lesson was – call things by their most straightforward and accurate names. This was because of the possible confusion created about a particular philosophical point that could derail further understanding.
For many, the most frequent reading activity is the daily news media. Their use of words is noticeably different from a story or essay.  In fact, rather than delivering a clear message, I've noticed the tendency in media to sow confusion by using obscure language.
For example, a while back I started noticing increased reporting of sexual assault, including assault on children. Depending on who is being accused, there is a tendency in many media reports to minimize the impact of what are clearly crimes.  I don't know if it's a sense of fairness for the accused, a corresponding lack of concern for the children, an attempt to be inoffensive so as to not upset consumers, or something else.
But I do know that when I see these weasel-words being used and the victims involved are children, I am appalled.
Here are some examples of words I've seen used, along with the more impactful direct message they can obscure.
"underage women" – there is no such thing. Underage means child.
"child prostitute" – children cannot give legal consent. They're sexual assault victims.
"sex with minors, underage women, etc." – this is child rape.
"non-consensual sex" – this is also rape, just not necessarily with children
That any self-respecting journalist would use words like this to minimize criminal behaviour is…replete with the potential for a lack of accurate display of relevant information gathering…..